Lockdown
I was supposed to be landing in Chiang Mai, Thailand right about now. Carrie's parents were supposed to be arriving at our house tomorrow, visiting and helping keep our household sane. This coming Monday, Fia was going to miss dance class for about the first time because Cai was supposed to have his first Blue and Gold Dinner for Cub Scouts.
Yet, here we are, on at least day 14 of the kids not leaving the house. I haven't gone anywhere since a quick grocery run six days ago, Carrie hasn't gone anywhere except for her dawn walk around our very-quiet neighborhood. Our small group has met on Google Hangouts twice now. Our new church has "met" two times now on Facebook Live Video. My workday happens from our guest bedroom; one video call after another, filled in with chats through a coworking app called Slack. And my team's pace has only picked up with the whole world of missions moving almost exclusively to virtual ministry during these crazy times.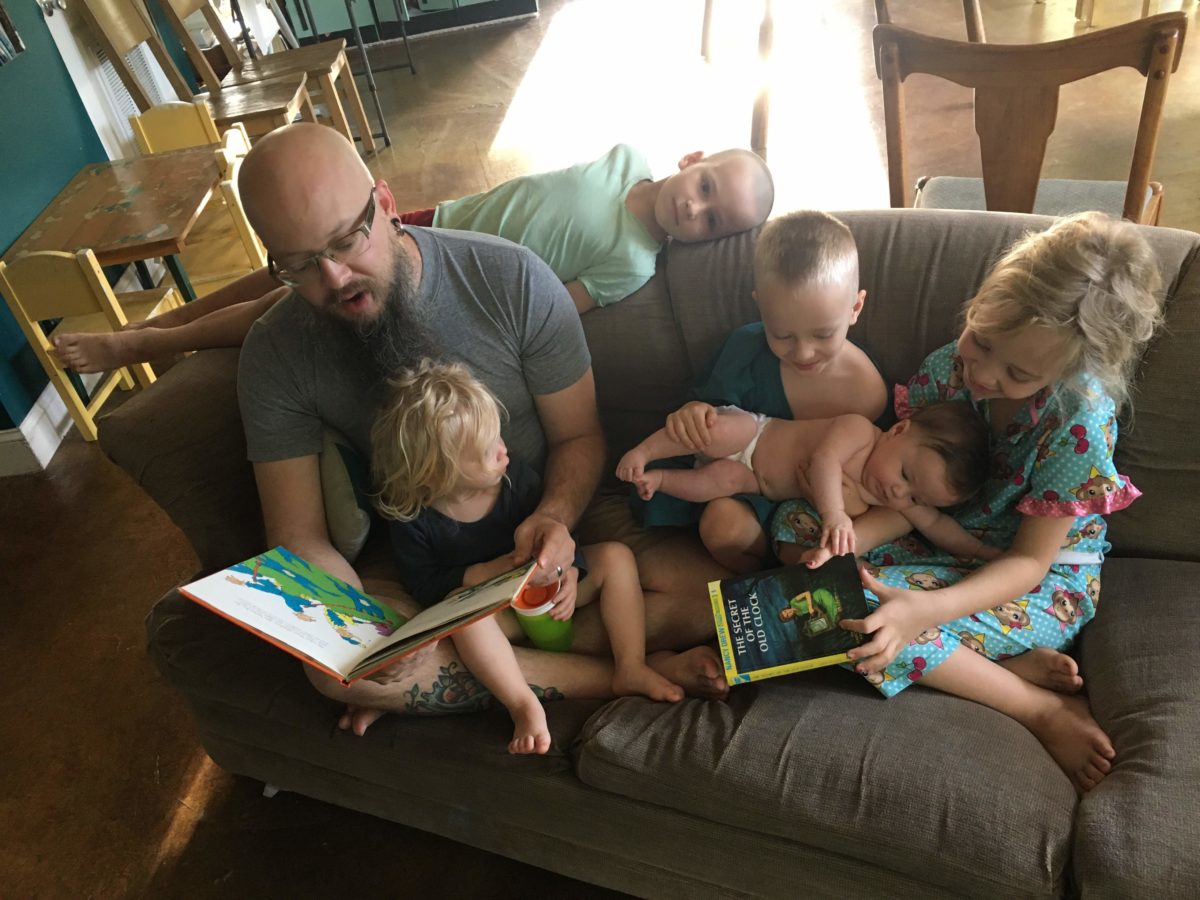 Oh, and it's rip-roaring allergy season in Orlando, with all of the trees trying to make fruit again this year. There's pine and avocado pollen dusted all over our yard… and apparently way up in my sinuses.
Social Distancing Opportunities
One of the things that the Jesus Film Digital Department (my team along with Marketing, and Film Production) is working on putting together a Digital Ministry Resource Kit to provide some ideas of how to make use of this weird time where we're all so separated, but so many of us have more availability to have intentional conversations over the phone, or email, or Facebook messenger, etc.

One of the apps that comes out of my team's work is called Voke. It empowers people to "grow together one-on-one, or with a group, even when you're apart, by watching a selection of gospel-based video series — all in one place." It's a perfect tool for youth groups who can't meet together, or for families who want to be intentional about making use of this time. It's set up to be a tool that facilitates group journeys thorough various series of shared content.
Voke is available in the Google Play Store, and Apple's App Store.
By the end of next week, the kit should be available on JesusFilm.org. Go there and search "Digital Ministry Resource Kit" to get it! (A little birdie told me that it would probably end up at jesusfilm.org/digitalministrykit.)
Out of the whirlwind…
Like most other places at this point, we're under a shelter-in-place order in Florida, which are usually hurricane-related around here. But the existential and spiritual questions surrounding the COVID-19 pandemic feel far more like Job's questions of the Lord leading up to chapter 38. Why is this happening? What did we do to deserve this?
God has purposes for this whole thing. Maybe some if it is the chastisement of His church for some reason, by preventing us from gathering (Malachai 1:10). Maybe part of it is that He's judging the modern world for arrogance in thinking we control our fortune and destinies. Perhaps it's both of those things, or neither. There will be be faithful, fruitful believers who die of this virus. There will be people who sin with abandon who are cured (or don't get it at all).
I've seen enough of Facebook to know that so many people have some explanation or idea about why God is judging whom. Instead, I find myself sitting like Job after God's thundering response of out of the storm — essentially — "Who do you think you are? I have my purposes, and I am in control of it. Trust that." And Job's response, "I know that you can do all things; no purpose of yours can be thwarted. You asked, 'Who is this that obscures my plans without knowledge? Surely I spoke of things I did not understand, things too wonderful for me to know." (42:2-3)

People are losing jobs. The air is clearer. People are dying alone. The stock market is crazy. Households are forced to be together. Trips are canceled. People are scared. Faithful churches are empty. Day and night still come (Job 38:12). The foundations of the earth are still solid (v4). Snow and hail fall from their storehouses (v22). Thunderstorms still follow their paths (v25). The dew and frost still form in the mornings (vv28-29). Orion, the Pleiades, the Bear and her cubs, and the rest of the stars still twinkle overhead (vv31-32). Gravity is still pulling things together; light still shines (v33). Lions still hunt; ravens still pick (vv40-41).
We are resting in this: God is not capricious, and He is in complete control over all of this, over the path of the virus and the responses of our leaders. Not only does He control all of these things, but He has a plan — no, probably lots of plans for how He will use all of this for His own glory, and "for good" for His Church. Even if we don't see it now. Even if we don't understand it later.
Even if things get far worse, God is sovereign over it. He's still good, He knows the end from the beginning, and He will accomplish His purposes.
Pray For
Everyone who is suffering from the effects of COVID-19, their families, and their communities.
Protection for medical professionals (like Carrie's sister) who are working on the front lines of this crisis.
Ease from anxiety for everyone. And, that we would see what it is that the Lord is doing with this!
Opportunities for all of us to serve our neighbors, and to minister in word and deed to those around us who need it.